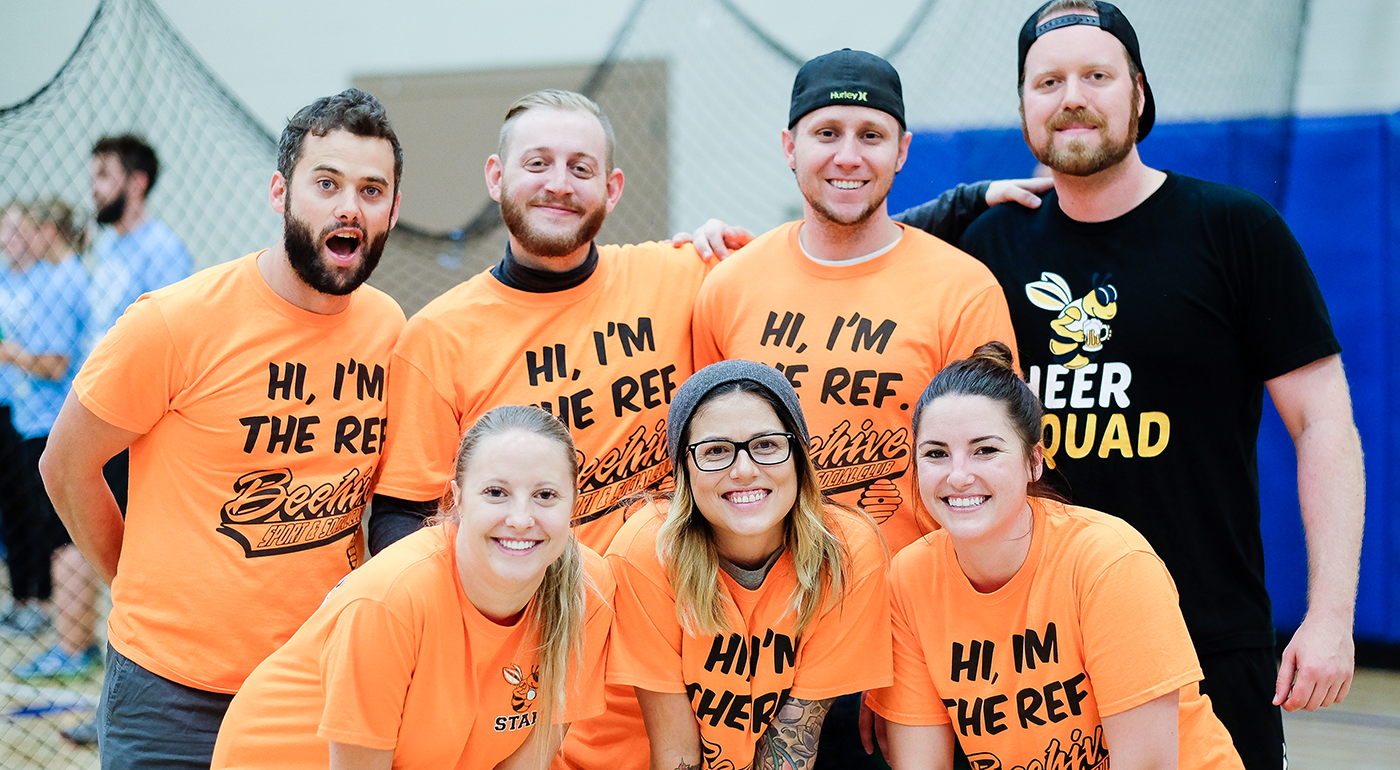 Beehive is always looking for help...Here are just a few ways you can join the team! 
Beehive Commissioner

The Big Cheese, the Head Enchilada, the proverbial Queen Bee of the Beehive universe is the Commissioner of Beehive Sports. This is a full time role and is compensated accordingly. It is equal parts demanding and fulfilling. Do you want the responsibility of shepherding the social lives of thousands of young professionals in Salt Lake City? If so, this might be the job for you. Here's a brief summary of the role:

Organizing leagues from start to finish. That includes:
Reserving fields 

Preparing and maintaining equipment

Managing league shirt inventory

Recruit and managing referees 

Recruit and managing league bar sponsor 


Assigning free agents

Making league schedules


Communicate with captains and players

Then doing it all again.

Other ongoing duties include:
Going out to leagues at nights or on the weekend to check in and meet people.

Keeping financial records up to date 

Tracking and replenish shirt inventory as needed


Producing quarterly and annual performance reports

Maintaining relationships with key stakeholders (Parks Department, Bars, Sponsors) 

Recruiting new sponsors.


Recruiting new referees.
To succeed in this role you must be:
Self directed

Independent 

Outgoing 


Adaptable

Able to manage people 

Organized 


Willing to work when work needs to be done (day/night, weekend/weekday)
This role will begin in March 2021. If you are interested in discussing this opportunity more, please email Dave@BeehiveSports.com to set up a time to chat.
League Photographer
We need someone to take photos of all the smiles, high fives and hugs happening during Beehive Sports leagues. Previous photography experience and/or portfolio of photos taken is preferred.
$10/hour depending on experience level.
Email Dave@BeehiveSports.com to set up a time to chat.
Beehive Referee
If you are good at dealing with conflict (yes, there are some dicks who get through our filters), outgoing, friendly, responsible and have experience refereeing sports (youth or adult) then you probably have what it takes to officiate a Beehive Sports game.
We are looking for referees for Kickball, Dodgeball, Flag Football, Volleyball, and more.  Most games take place on set nights during the week starting around 6:30 PM. Referee as much as you want based on your schedule and availability. Most opportunities last 3 to 4 hours per night and a minimum of 1 night a week.
$10/hour depending on experience level.
Email Dave@BeehiveSports.com to set up an interview.
Beehive League Coordinator
Beehive is growing and that means that Dave and Jimmy can no longer be at every single league night.  We need qualified and experienced people to run individual sports leagues!  Leagues include: Kickball, Volleyball (indoor and sand), Dodgeball, Flag Football, Cornhole, Basketball, Softball, Soccer and more.
Strong organizational skills are a must.  Responsibilities will include:
Setting up field locations

Transporting league equipment to and from fields

Managing other referees during the season

Help coordinate end of season awards and party

Other duties as assigned
Each coordinator will be assigned to one specific league to start out with. Opportunities take approximately 6-7 hours per week, with a total of around 60 hours per 8 week season.
$15/hour depending on experience level.
Email Dave@BeehiveSports.com to set up an interview.